There was another hubbub concerning Puerto Rico's most famous citizen, Congresswoman Alexandria Ocasio-Cortez, who represents a district in New York, not Puerto Rico. AOC as she is known, a former bartender, is most known for her Puerto Rican heritage and her constant complaints about how little welfare Puerto Rico receives and how terrible American colonialism is for the Puerto Rican people. The truth is that Puerto Ricans live off the hard work of White American taxpayers.
The specific complaint this time originates with a tweet from AOC that since Hurricane Maria in September 2017, her grandmother, abuela in Spanish, has not had her roof repaired. And former President Donald Trump is responsible for that particular failure of the disaster assistance agency, the Federal Emergency Management Agency (FEMA), to get her roof repaired.
Compounding this was a tweet by Matt Walsh, who started a GoFundMe for AOC's grandmother that raised over $100,000.00 for repairs.
The offer was rejected by the family, but Walsh has been dining out on the issue having got one over on AOC. Of course, Walsh, who has been saying the word White in public quite often, has also been exposed for failing to do the same fundraising for Whites suffering oppression from the Deep State.
However, AOC and Walsh's little Twitter spat is not my main focus. More of interest is AOC's adherence to a foreign entity in both the United States and New York, although that is of utmost importance and her lies about her grandmother.
First, let us look at AOC alienation from the Historic American Nation. While Puerto Ricans are, by legislation, American citizens, at no time have they been Americans in any sense of the word. They speak Spanish, not English, they don't share a culture with the United States, theirs being one of mixed race mongrelization and Caribbean culture, not one of Whiteness, the English language, the heritage of the Western Civilization, the Revolutionary War, manifest destiny, settling the continent, and industrialization. Puerto Rico was part of none of that. It is a sad little colony obtained after the 1898 Spanish-American War. Puerto Rico has always had a strong independence movement which has only been thwarted by enormous welfare payments and free entry into the United States. AOC reflects that, despite her being born in the United States, she remains a Puerto Rican at heart and in her mongrel race, despite her ability to pass as White.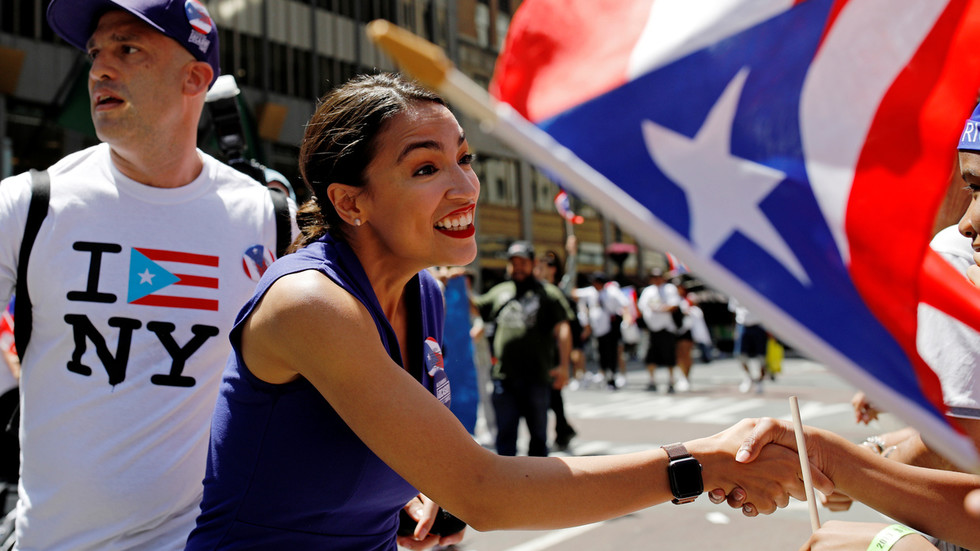 Despite living most of her live in the exurbs of New York, she considers herself a Puerto Rican and so is very concerned about what happens there, including how and if disaster assistance is provided to persons in Puerto Rico.
While Walsh thought he was owning the libs, he failed to think this through and has taken heat for raising money for leftists rather than for White Americans.
But what has been lost in all this was the lies that AOC was telling and the crimes she was covering up for her grandmother. First, AOC claimed that no money was getting to Puerto Rico and its residents because President Trump was holding up funds. That is a lie. Puerto Rico has been awash in regular disaster assistance funding and special funding appropriated by Congress. What AOC did not tell the public is that Puerto Rico is a black hole of fraud in all Federal programs, especially disaster assistance funding. Puerto Rico is so notorious for fraud, that the Department of Homeland Security Office of Inspector General (DHS OIG), the agency charged with investigating fraud in FEMA's disaster assistance programs has a full-time office in Puerto Rico just for disaster assistance fraud. No other State or possession of the United States has an office dedicated to just fraud in that one State or possession, not Guam, not Saipan, not the U.S. Virgin Islands, just Puerto Rico. Fraud is so notorious, that after each major disaster in Puerto Rico, the DHS OIG has to deploy large contingents of agents from all over the United States to deal with the massive fraud common after hurricanes and other disasters in Puerto Rico.
But back to AOC's grandmother. Disaster assistance to residents and businesses in an area afflicted by a disaster is governed not by Presidential whim, but by law, in this case the Robert T. Stafford Disaster Relief and Emergency Assistance Act of 1988, as amended. Generally, disaster assistance is divided into two areas, Individual Assistance (IA) and Public Assistance (PA). IA is for persons and businesses affected by the disaster and PA is for public agencies, mostly State and local governments, and non-profit agencies that are affected or who provide assistance in the relief of persons, rescue, medical assistance, and other actions common in disaster relief.
With regard to AOC's grandmother, there is no manner at all to blame President Trump for any failure of her to have her roof repaired. First, Presidential involvement is for the most part limited to declaring the disaster, then FEMA takes over, working with, in this case, the Governor of Puerto Rico, to provide relief as authorized and regulated under the Stafford Act and Chapter 44 of the Code of Federal Regulations, Emergency Management And Assistance. It is an automated process; here's the list of all disasters declared for Puerto Rico. They seem to have multiple disasters every year. What a shithole. In this case it was Puerto Rico Hurricane Maria, number EM-3391-PR, declared by President Trump on September 17, 2017.
FEMA provides IA to persons who have had damage to their residence and to personal property. However, if the residence is a rental or lease, damage to the property is the responsibility of the owner or landlord. Landlords, being commercial entities, do not get FEMA assistance, but no-interest loans from the Small Business Administration (SBA) to repair damage from a disaster to rental property.
After a declaration by the President, FEMA implements an online, phone bank, and in-person system for requesting disaster relief and adjudicating applications by both IA and PA applicants. Now, the fraud in both IA and PR is massive, with corrupt local officials heavily inclined to defraud the gringo and his money.
Now, with respect to AOC's grandmother, there are only a limited number of reasons that she has not received money to repair her roof. First, and most obvious, she never applied. Puerto Ricans are low IQ and old people are especially affected by declining intelligence. Perhaps she never applied. AOC for all her public presentation as a Puerto Rican, doesn't spend much time there. Outside of the tourist areas such as the beaches and Old San Juan, it is a proverbial shithole. That is why so many leave. And since aside from her public persona as a concerned Puerto Rican, AOC likely never determined in her grandmother ever applied.
Now, the application process can be confusing, and FEMA endlessly mails applicants letters and determinations, which can confuse low intelligence people, but most of the work is perfunctory, with 99% of applications approved. The only real hitch is the actual physical inspection, but often times that is waived. However, FEMA provides free consultation and assistance with applications by phone and in person at locally established Disaster Recovery Centers, outlying smaller offices, and through local governments. So, if AOC's grandmother applied, but did not get her disaster assistance grant, then AOC or some other family member could have made a phone call or went in person to find out why there was no award of money to repair her roof.
The other, more likely reason, is that AOC's grandmother applied for and obtained disaster assistance, but did not spend it on roof repairs. The Act and 44 CFR require that disaster assistance be spent on repair and replacement of damaged real property and personal property. What needs to be determined is what AOC's grandmother spent her FEMA check on. It is clearly not on fixing her roof.
Now, if AOC's grandmother did not own the property, the landlord is responsible for repairs. And certainly the landlord applied for and received an SBA no-interest loan to make the repairs. If the landlord did not, then it is not a case of missing disaster funds, but one of a contractual relationship between tenant and landlord justiciable under Puerto Rican local laws. But not related to President Trump or disaster assistance programs.
We all know the stories from Hurricane Katrina where FEMA gave out debit cards with thousands of dollars per claimant with no verification of any damage or loss by the claimants. We know from records that those debit cards were used not for evacuation, repair, or replacement, but used at strip clubs and for drugs. You humble reporter was involved in those investigations, and the fraud during Katrina was massive. Millions of dollars was lost to fraud then, and if AOC's grandmother got money, she spent it on something else besides fixing her roof. Perhaps a family member stole it and spent it on cocaine. There are a number of scenarios, to many to address here. But one thing is certain. Disaster assistance was available to AOC's grandmother, President Trump did not interfere with her check, and we know that she did not fix her roof. If she misused her disaster assistance, then AOC's grandmother is criminally liable for fraud and should be investigated and indicted for making a false and fictitious claim to the United States in violation of Title 18 United States Code Section 287, False Claim.
But the real problem is Puerto Rico. It is not in any measure part of the Historic American Nation. It needs to be cut adrift and given its independence. AOC and her grandmother are not American in any sense of the word other than a mere legality and presence. AOC hates American and considers herself to be Puerto Rican, first, last, and always. America is only a passport of convenience for AOC, neither her heart or mind are American. It is time and just for AOC and other Puerto Ricans to return to Puerto Rico and live their lives there. They already have their own Olympic team. Let them have their national independence, and pay for their own disaster assistance. Puerto Rico Libre! Of course though, they won't have Donald J. Trump to kick around any more.