ICE SVU is in the news again.  ICE SVU is the moniker I have given one of the sub-components of U.S. Immigration and Customs Enforcement (ICE).  Properly known as Homeland Security Investigations (HSI), ICE SVU is supposed to be the investigative function of immigration enforcement, supposedly concentrating on alien smuggling, work-site enforcement, benefit fraud, and various other customs related investigations.  However, as I warned President Trump in a posting at VDare, ICE SVU doesn't like to do immigration enforcement, especially work-site enforcement.  [President Trump Will Have Foes In Immigration Bureaucracy—But Also Friends. They Can Help Him Win, by Federale, VDare, April 25, 2016]  I identified ICE SVU as one of the recalcitrant components of the Department of Homeland Security (DHS) that would resist his orders to increase immigration enforcement.  And my warnings were spot on.  ICE SVU leadership is insubordinate and a center of sabotage of his immigration enforcement strategy.
And, as if on schedule, ICE SVU tried another feel-good and so very rare work-site enforcement raid.  It was designed for the appearance of enforcement, a sort of boob-bait-for-bubbas.
U.S. immigration officials raided numerous Mississippi food processing plants Wednesday, arresting 680 mostly Latino workers in what marked the largest workplace sting in at least a decade.

[Largest ICE Raid In A Decade Nets 680 Arrests In Mississippi Food Processing Plants,   Associated Press/WGN9, August 7, 2019]
So far, so good.  A great big raid.  Of course, ICE SVU could have been doing many more smaller raids in many more States instead of wasting money transporting 600 ICE Agents and Officers to Mississippi for raids against four chicken plants.  How about 60 raids in different areas using 10 agents each?  That would have been more effective.
More telling though that ICE SVU is not serious about work-site enforcement is that the ICE SVU agents involved, this was all something new.
"I've never done anything like this," Chris Heck, resident agent in charge of ICE's Homeland Security Investigations unit in Jackson, told The Associated Press inside the hangar. "This is a very large worksite operation."
So, the Resident Agent-In-Charge (RAC) for ICE SVU in Jackson, MS, has never been involved in a big work-site raid.  More likely is that he has never been involved in any work-site raid, much less an immigration arrest.  And this is telling concerning ICE SVU, they just don't do immigration arrests.  This means that an employee of ICE SVU, created in 2003, has no immigration enforcement experience.  Likely Heck is either a legacy U.S. Customs Service (USCS) Special Agent who was brought into the new agency, ICE SVU, or an employee hired since 2003, and never was trained or assigned immigration enforcement work.  Worse yet, Heck was steadily advanced as a Special Agent in ICE SVU for at least 5 years, then worked at the journeyman level, a GS-1811-13 Special Agent before he qualified to be a first line supervisor, a Group Supervisor or RAC, both are at the GS-1811-14 pay level. So, for 8 years or more Chris Heck did no immigration enforcement.  That says that ICE SVU does not care about immigration enforcement.
Making matters worse, after arresting 680 illegal aliens, ICE SVU promptly released 300 of those illegal aliens, most to never be seen again.  They will fly to the wind.
Approximately 30 people detained Wednesday were released at the same site they were detained on "humanitarian grounds," according to a press release issued Thursday by Mike Hurst, the U.S. attorney for the Southern District of Mississippi, and ICE.

Another 270 were released after being processed by Homeland Security Investigations on Wednesday. Those 270 were taken back to where they were initially detained, the release stated.

Wednesday afternoon, ICE spokesperson Bryan Cox said everyone taken into custody and detained was asked if they had children. Cox said at the time that everyone would be processed but "not everyone is going to be (permanently) detained."

"You are going to have persons released," he said. "ICE makes custody determination on a case-by-case basis based on the totality of their circumstances."

According to the Thursday release, "all those detained yesterday were asked when they arrived at the processing center whether they had any children who were at school or child care and needed to be picked up."

Agents "made cellphones available" so those detained could make child care arrangements, the release stated.

If a couple was detained with minor children at home, one of them would be released on "humanitarian grounds." Single parents with minor children at home also were released.

"Based on these procedures, it is believed that all children were with at least one of their parents as of last night," the release stated.

[MS ICE Raids: 300 Of The 680 Detainees Released, by Sarah Fowler, MSN News, August 8, 2019]
So, instead of spending time and money on deporting those arrested, ICE SVU bent over backward to release illegal aliens to take care of their children.  None of these 300 will later appear at their immigration hearings.  They will immediately leave the area, or, worse yet, obtain new fraudulent documents, and go back to work at their same employer, or another chicken processor in the area.
Sadly, this is the routine when ICE SVU releases illegal aliens.  And there is no need to do this.  There is no law that says illegal aliens who have children have a get out of jail free card. My sources tell me this catch-and-release of illegal aliens with children was instituted not by Barack Hussein Obama, but by Jorge Bush.  Imagine that, the Clinton Administration did not adopt this policy of a free ride for illegal aliens, but a Republican.  And President Trump's ICE SVU is continuing it.
Also of importance.  ICE SVU does not want to be known as part of ICE.  Note photographs of the agents from ICE SVU, their raid vests say "Police HSI," while the ICE Enforcement and Removal Operations (ICE ERO), the other sub-component of ICE, has "Police ICE" on their raid vests.  This is because of orders from ICE SVU management to never use "ICE" branding on their raid attire.
ICE SVU Agent Who Doesn't Want To Be Associated With ICE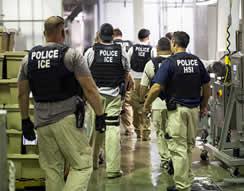 Deportation Officers Not Ashamed Of ICE
Also of note, relatives and friends of illegal aliens gathered to support their fellow illegals, without molestation.
Workers filled three buses — two for men and one for women — at a Koch Foods Inc. plant in tiny Morton, 40 miles east of Jackson. They were taken to a military hangar to be processed for immigration violations. About 70 family, friends and residents waved goodbye and shouted, "Let them go! Let them go!" Later, two more buses arrived.

['Let Them Go!': Largest US Immigration Raids In A Decade Net 680 Arrests, by Rogelio Solis and Jeff Amy,  Associated Press/USA Today, August 8, 2019]
In the old days of the Immigration and Naturalization Service (INS), agents would have worked the crowd to find other illegal aliens outside a raided facility and would have gone to the homes of the arrested illegal aliens to arrest spouses.  My times have changed.
It is time for President Trump to order ICE SVU back into the work-site enforcement business full time, not Potemkin shows for the press.  Work-site enforcement should be an every day occurrence, not some huge, one time event, soon to be forgotten.  Furthermore, to discourage illegals, to follow Mitt Romney's advice on self-deportation, no illegal should be released because they have children.  If an arrested illegal alien has kids, then Child Protective Services should be notified.  That will put fear into the hearts of illegals.  Which is how one frightens illegal aliens into self-deportation.  Fear is the mind killer.